It's time to start the Lawton Public School Foundation Change Challenge! Teachers will be collecting change January 23rd through the 27th!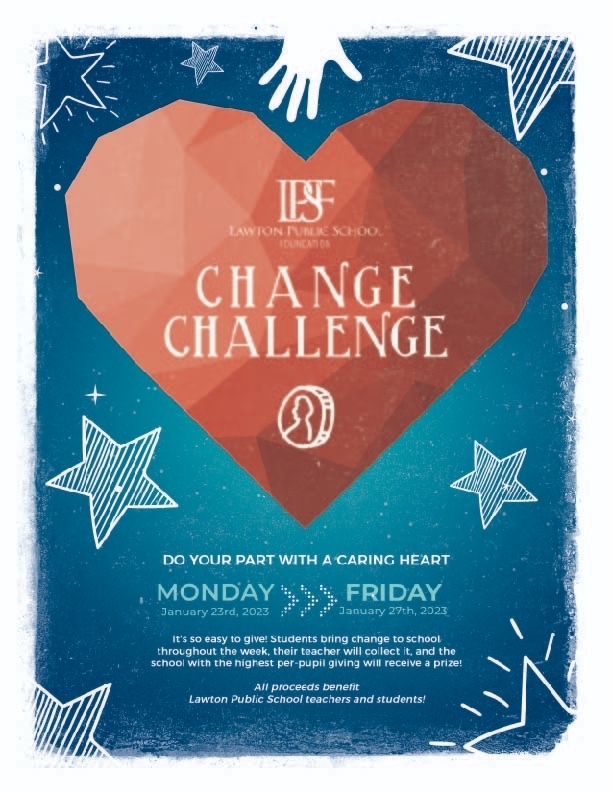 In observance of the Dr. Martin Luther King, Jr. holiday, LPS offices and schools will be closed on Monday, Jan. 16. Be sure to catch our MLK Celebration on LPSTV's YouTube channel Tuesday, Jan. 17th at 5:30 pm.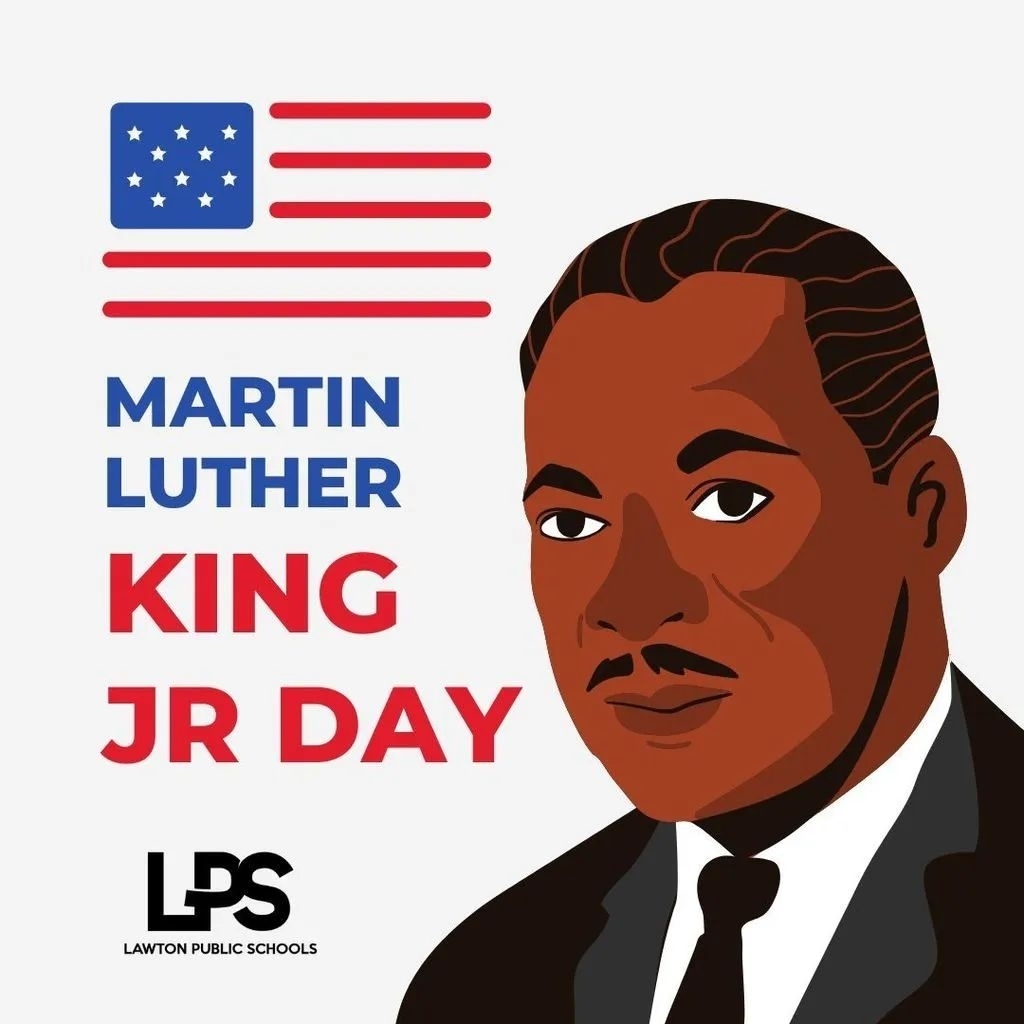 Don't forget to buy a yearbook!

2023 CMS Tennis Schedule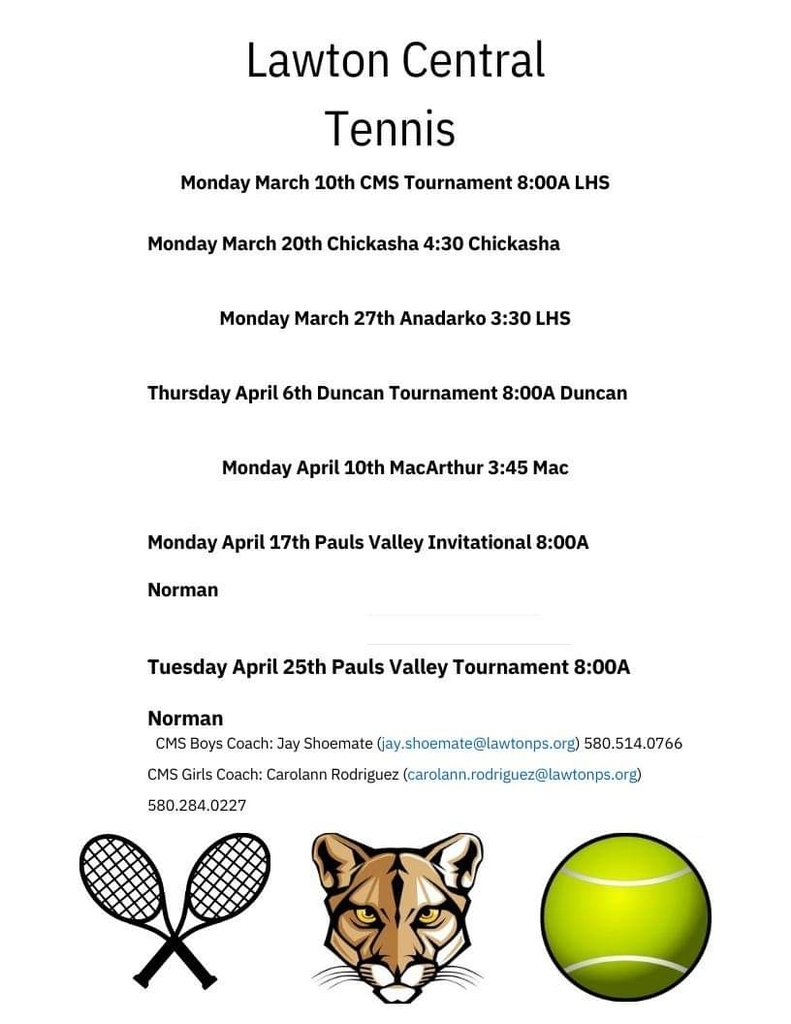 2023 CMS Track Schedule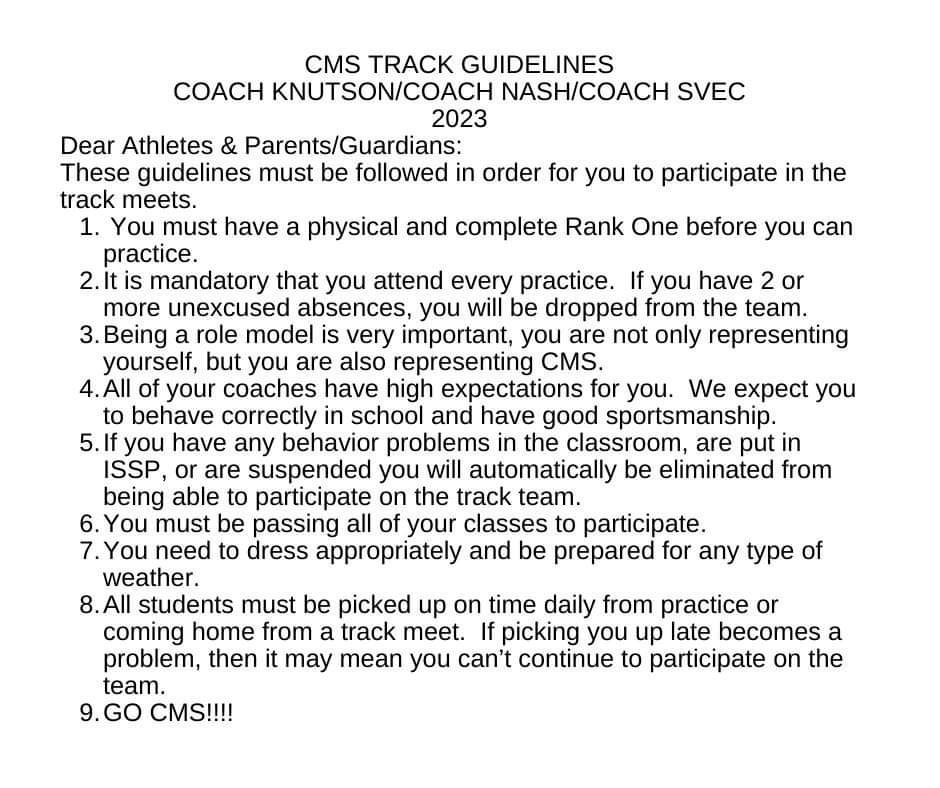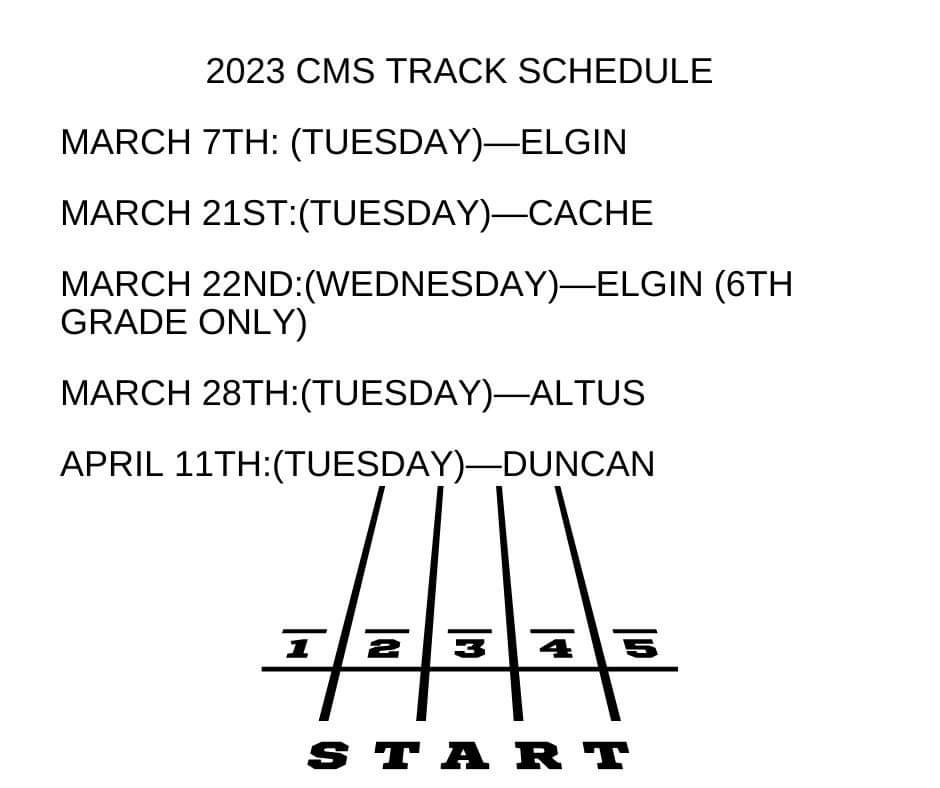 Neuro Night at the Museum of the Great Plains February 18th, fron 5:30 to 7:30. Free admission.

Please help us support PTO and have a great family dinner at Texas Roadhouse next Tuesday! Don't forget to tell them you are there for CMS PTO!! ❤️💙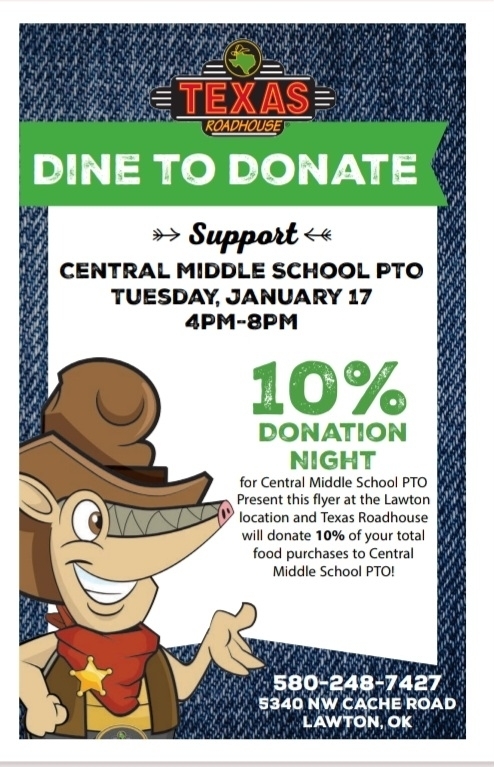 The next PTO meeting with question time for Mr. Jones has been rescheduled for NEXT Thursday, Jan 19 at 6:00pm!

There will be a soccer parent/player meeting for all kids playing or interested in playing soccer this Friday, January 6th, at 5:45pm in the big gym.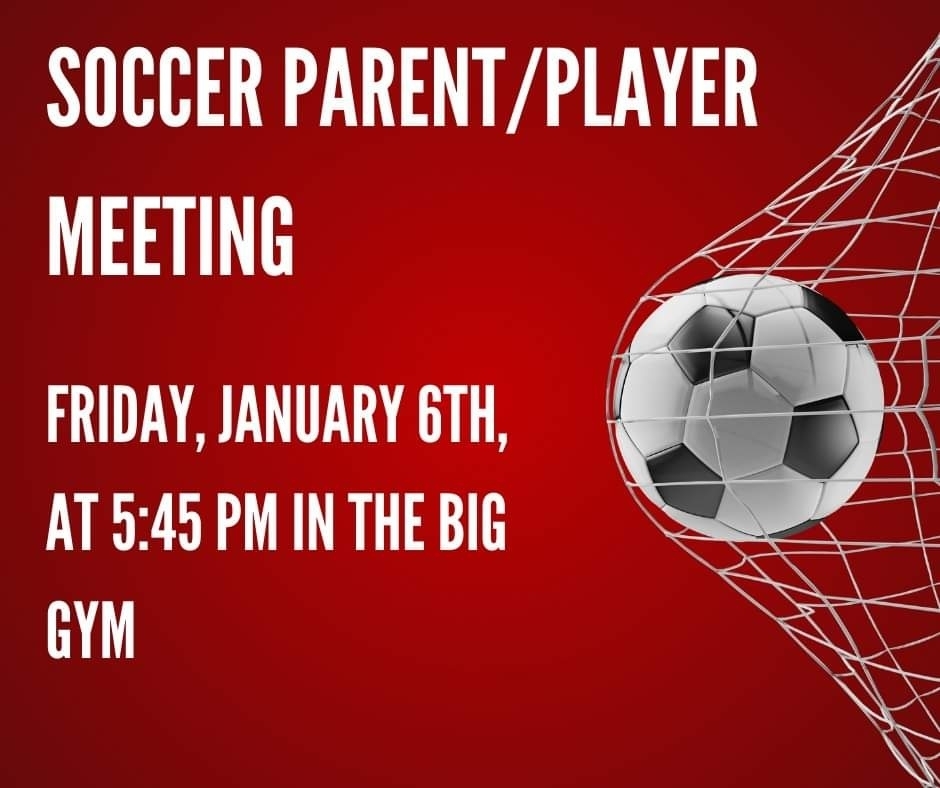 CMS 2023 Boys and Girls Soccer Schedule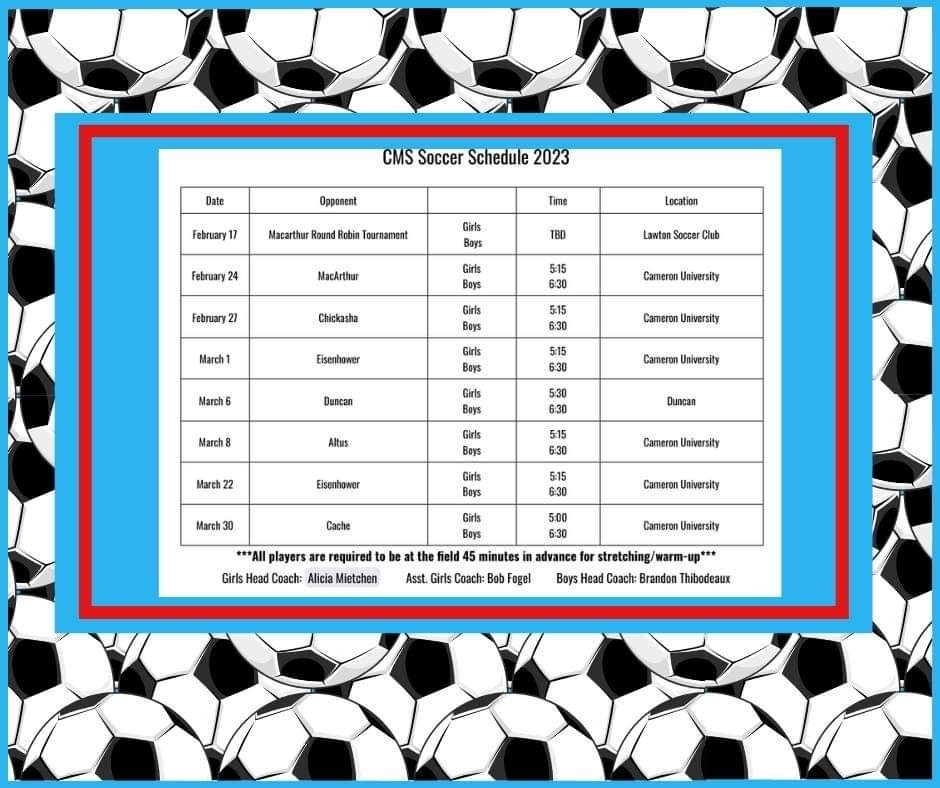 CMS Gaming is holding re-tryouts for most of our teams! *You can bring your own controller, but you don't have to; we have xBox and switch controllers! Check the calendar 3-5pm each day: wait after school in the cafeteria, play, get graded, then leave to go home Get an invite when you make the team: you can try for more than one team, but high expectations with attendance to all practices WHEN DOES EACH GAME TRYOUT? This week: Thursday, 1/5 : RocketLeague 3v3 - for top 10 players to make 3 teams - one team won the national championship in December (weekly Thursday practices) Friday, 1/6 : Fortnite 4v4 Zone Wars - for top 9 to make 2 teams - one team is undefeated for our season (weekly Thursday practices) Next week: Monday, 1/9 : RocketLeague 2v2 - for top 6 players to make 3 teams - new doubles style for our award winning teams (weekly Tuesday practices starting 1/23) Tuesday, 1/10 : Overwatch 5v5 - for top 12 players to make 2 teams - NEW GAME (weekly Friday practices starting 1/27) Wednesday 1/11 : Halo 4v4 - for top 8 players to make 2 teams - BOTH teams are undefeated (weekly practice on Mondays) Week of MLK Day: Tuesday, 1/17 : Minecraft 1v24 - for top 12 players - matches are keyboard and mouse with Java (weekly practices on Tuesdays) Wednesday, 1/18 : Brawlhalla 1v1 - for top 18 players - NEW GAME (weekly practices on Wednesdays) Friday, 1/20 : Super Smash Bros 1v1 - for top 10 players - TOP team in the state rankings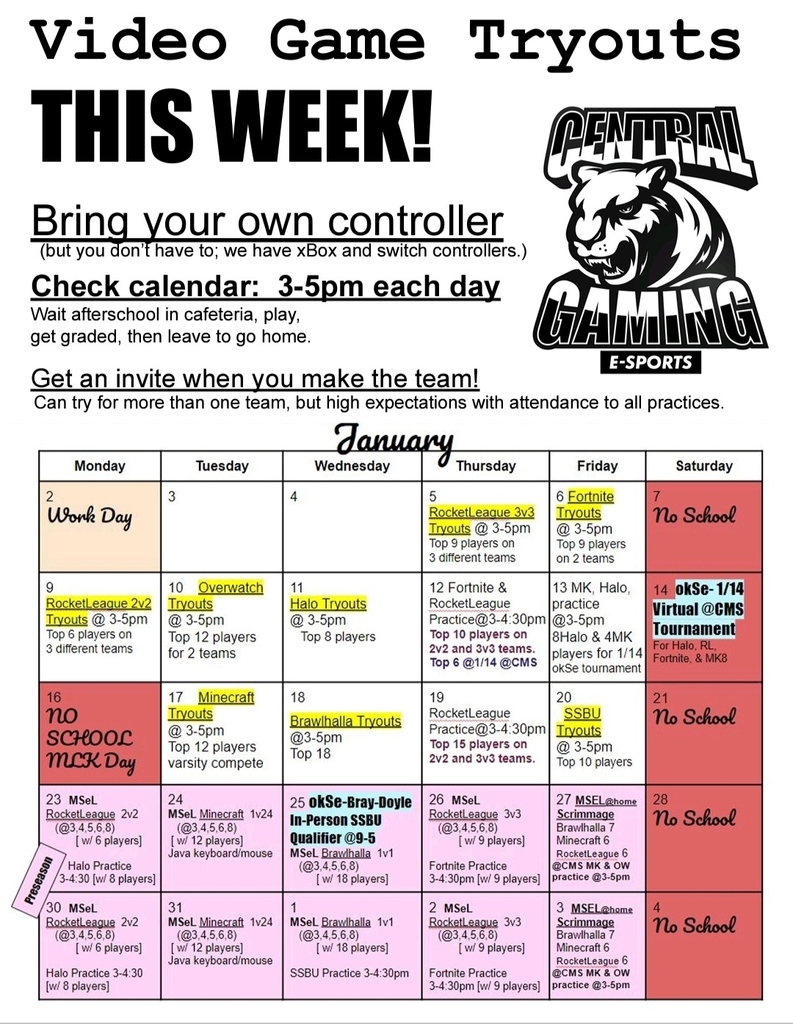 That's a wrap for the first semester! Enjoy your break, and we'll see you on January 3rd!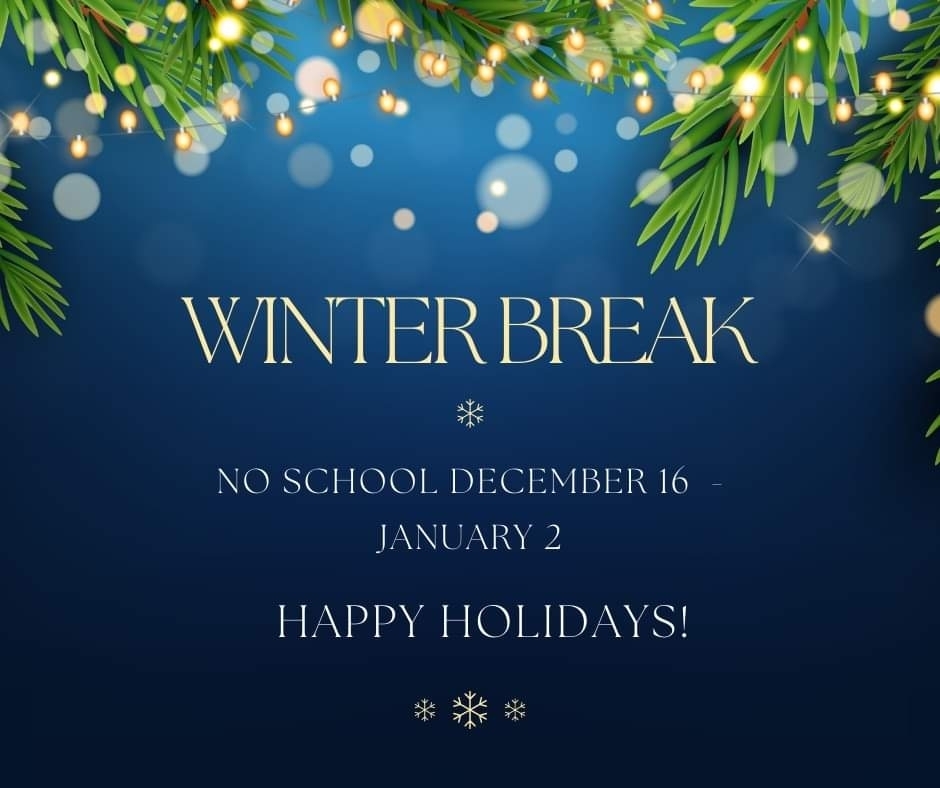 Our RocketLeague WON Finals! We are FIRST in the nation on MSEL! We played against Mattacheese Middle School in Massachusetts! Mrs. Leonard says of her RocketLeague team, "Best goalie ever, Mia, went from Bronze last year to Platinum this year! AMAZING to watch her grow, especially with her amazing aerial saves! Best rockeeter, Manny, with his beautiful aerial shots which are insane! And he's only been playing for a year, but he trains intensely.... Then.. Loudest, funnest, and messiest striker, Joseph, keeps our team together with his great pep-talks and hyped with his shrieking screams." To watch the finals, check out the link below:
https://www.youtube.com/watch?v=gF6U1HZ4I-M
Keep up the awesome work cougars!

We would like to give a huge Thank You to our PTO for providing hot chocolate and cookies to the teachers and staff today! We appreciate all of the continued support that our PTO provides!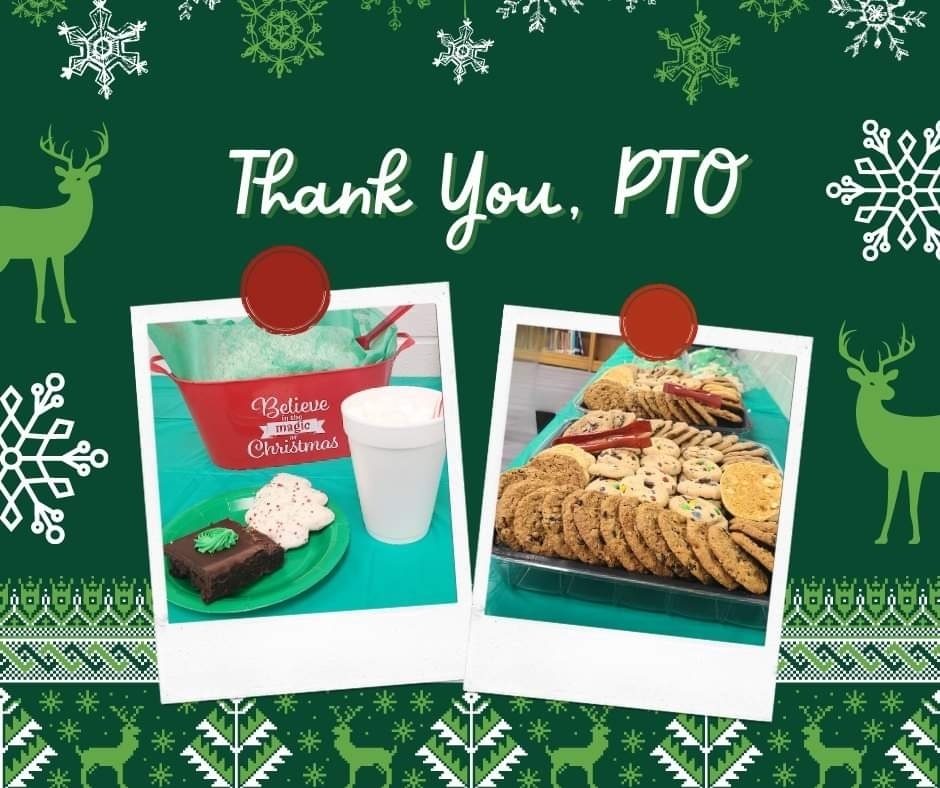 Central Middle School's eSports is in the finals playoffs with the national Middle School eSports League (MSEL) for Minecraft and RocketLeague! Give a shoutout to these kids and share a little praise with them! Minecraft players : Samuel MacNab, Kenneth Jessie, Julius Mahsetky, Logan Schnell, Jesslynn Cassidy, Zaiyn Davis, Ashtyn Lavell, Alex Robarge, Mitchell Harrison, and Priscilla Andonian RocketLeague players in Finals : Emanual Tahhahwah, Joseph Carlson-Mueller, Mia Trickey On Tuesday, December 13 @ 7pm, Minecraft and RocketLeague have PLAYOFF FINALS. Central Middle School's RocketLeague (3v3) is TOP 2 in the NATION! CMS RocketLeague Gold has played other middle school teams from South Carolina, Georgia, California, and Massachusetts! Ten "centralcougar" Minecrafters are surviving earn points for Top 36 national playoff rankings! For our 7pm queue times, we stayed after school for five playoff days, celebrating with dinners together, then gaming against teams across the nation. Join the stream at 7pm @ Central Middle School's Youtube:
https://www.youtube.com/@LawtonCentralMiddleSchool
This is our first year in eSports leagues. It's amazing to see what our students are capable of state-wide and nationally for our eSports leagues. Central Middle School competes as top-ranking leaders in the state with Halo, Fortnite, RocketLeague, Smash Bros, and MarioKart. Next semester, we are growing eSports teams for Overwatch 2, Brawlhalla, and broadcast streaming. Keep an eye out for our shining gamers across Lawton Public Schools! Macarthur Middle School RocketLeague is competing for 3rd/4th in the national MSEL playoffs on Tuesday. This Friday/Saturday, local schools (including LPS schools) compete at the high school eSports state playoffs for Oklahoma Scholastic eSports (okSe).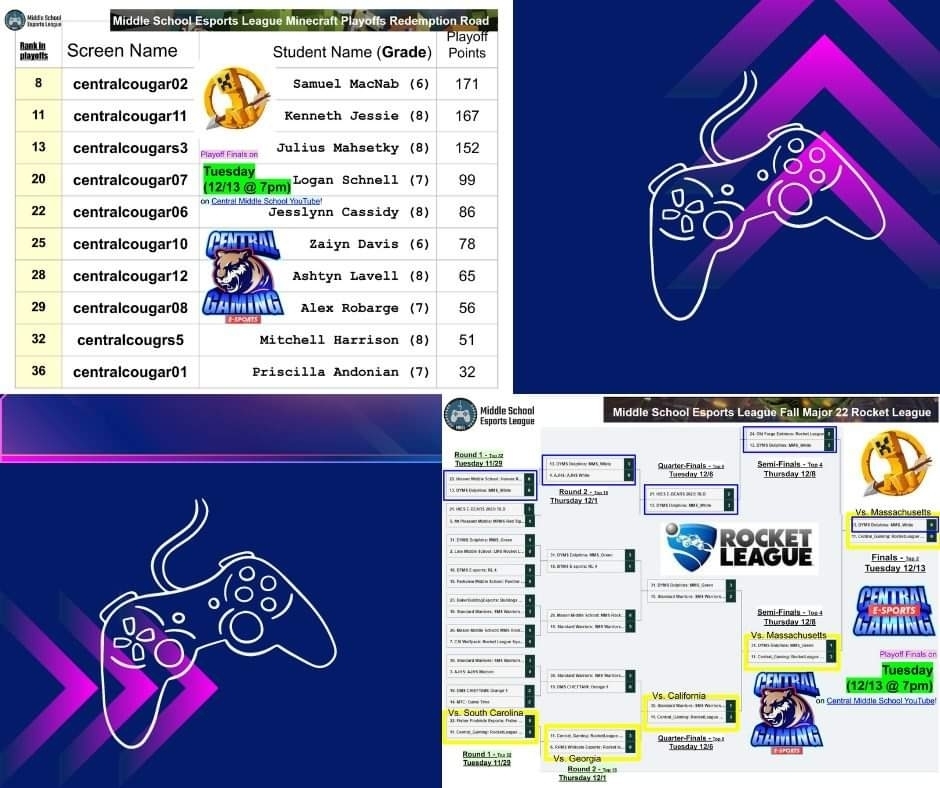 CMS Family, We would like to invite you all to come enjoy the band's Winter Concert tomorrow evening in the CMS auditorium at 6:30pm.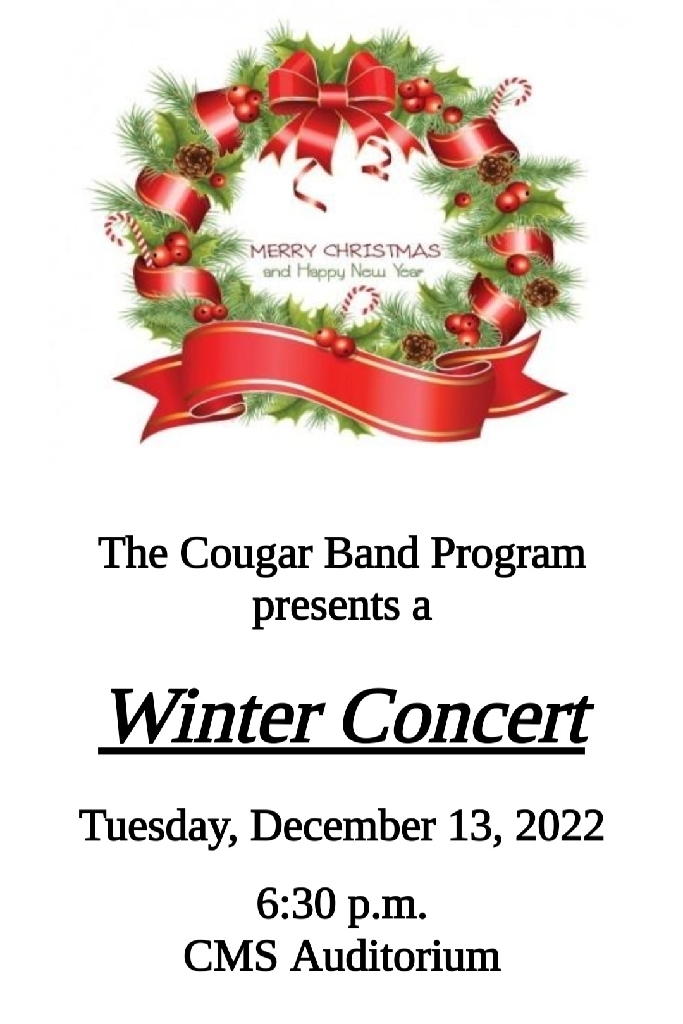 NJHS volunteering in the community at Habitat for Humanity!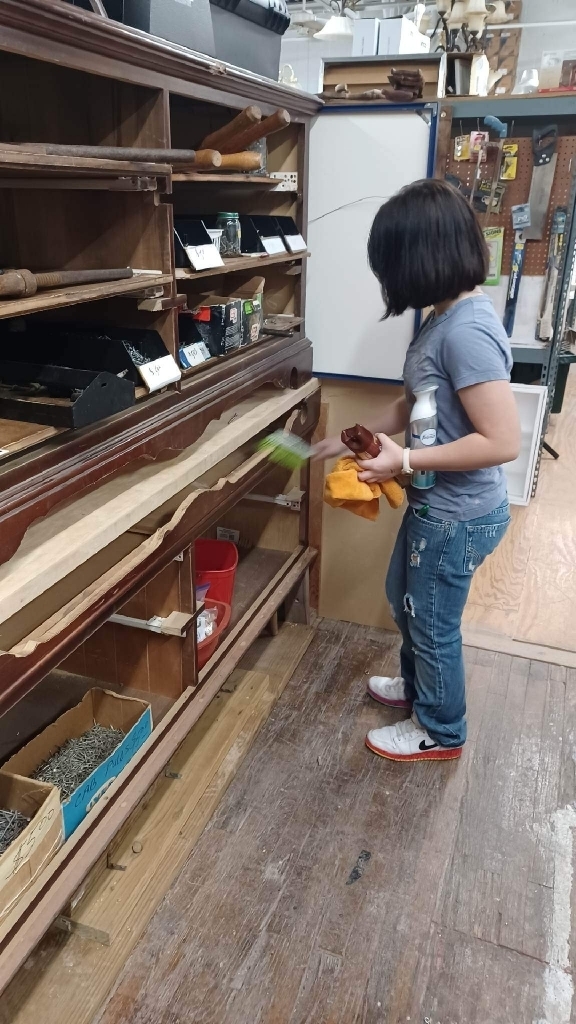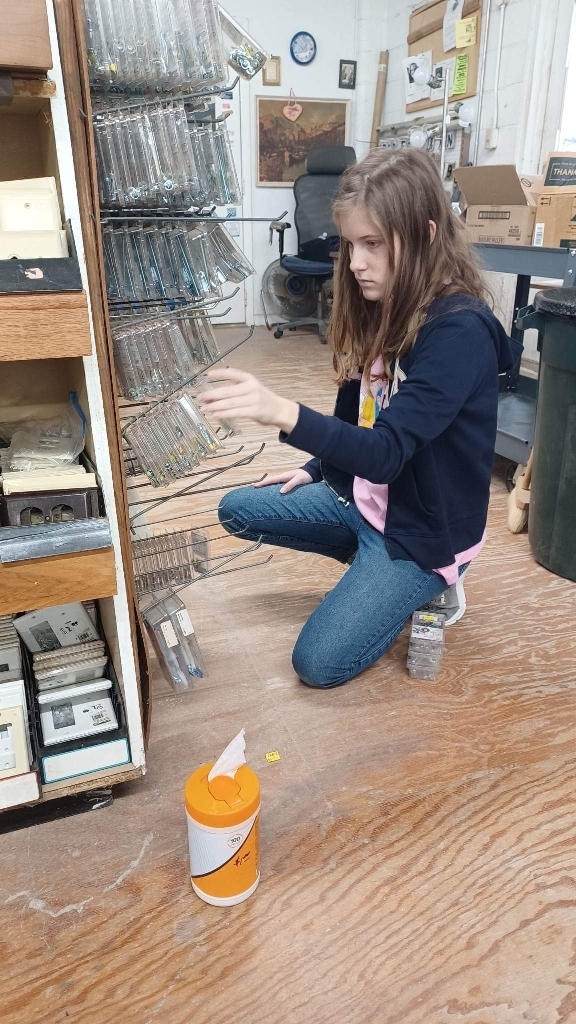 Don't forget to wear your favorite winter pajamas tomorrow!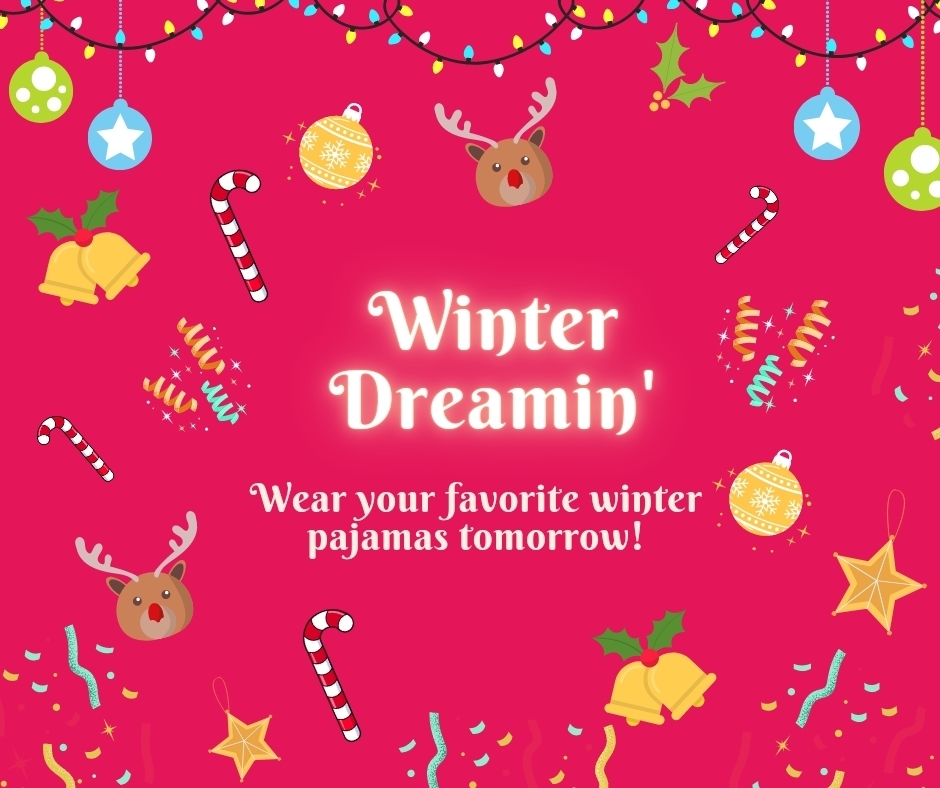 It's dance day! The dance is 3:15 to 4:45, so please make arrangements to pick up your students by 4:45. We can't wait for the fun!

Just a reminder that there will be another PTO meet and open question time with Mr. Jones on Monday, December 12th, at 6pm in the CMS auditorium. Come learn more about PTO, and about all of the ways PTO helps out the school! Also, bring your questions for our principals!